There are many kinds of filtration other than the usual HEPA and activated carbon filters. Let's take a look at a few of the other options.
Electrostatic, Ionic and UV Filtration
Most air purifiers use HEPA filters to clean the air. HEPA is not the only option, however, and so I am about to briefly explain the workings of some of the other technologies used today.
Sometimes a single air purifier combines many types of these filters, and that can be an effective way to try to cover all of your bases, especially if you have many issues with your air.
Electrostatic Air Filters
Electrostatic filters does two things: first charging (electro-statically) and then collecting the bad particles from the air.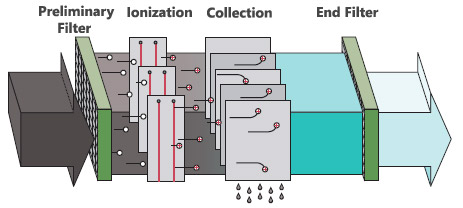 The bad particles pass through some metal sheets and are then trapped, so that clean air replaces the dirt air.
Electrostatic filters can eliminate particles as small as 0.01 microns (which is a smaller particle size than HEPA filters) They also tend to use less power than some of the other filter options available, and are quieter.
Because electro-static filters can be cleaned, and put in a dishwasher, they don't need to be replaced as often and will save you money over time relative to filters that do need to be replaced.
Ionizers
Ionizers are often teamed with HEPA filters in air purification devices. They use charged ions to target and neutralize pollutants in the air. It creates ozone, which is visible and tangible, but also dangerous in excess. Most air purifiers do't use enough ozone to create a material health risk, but you should always exercise caution around ozone. These devices are perfectly safe when used properly and in accordance with a manufacturer's specifications.
Ionizers are the gold standard in removing smoke odors from the air, but are mostly ineffective with regards to allergens and other kinds of particles.
Ultraviolet Air Filters
UV rays are dismantle the DNA of organic matter like bacteria, mold spores, fungi, mildew and viruses. You will often see them around public institutions, where there tend to be people carrying airborne illnesses like hospitals and schools.
They are not recommended, however, for most other air filter needs, such as a desire to remove inorganic matter like dust, dander, pollen, smells, gases, etc.
Thermodynamic Sterility
Thermodynamic Sterility is a method where heat is created to essentially boil dirty air. These air purifiers tend to be ceramic to be able to withstand very hot temperatures. While they are typically manufactured to be safe, they are often not used for kids rooms or elderly homes in case of a malfunction.
The sterilization of the air using heat is, however, quite effective against mos common pollutants. There is no real filtration but the dirty particles are sterlizied and other air particles are introduced.
Conclusion
That is the majority of the air purification technology available today. If you have any questions about which may be best for you, please drop us a line.