If you live in a smaller space, you probably need to "keep it down" for neighbors or roommates, or you want something with a little moxie to drown out the noise from, well, neighbors and roommates. Say hello to the GermGuardian AC4825 3-in-1 Air Cleaner with True HEPA, UV-C and Odor Reduction. It looks pretty sharp and is a look sleeker and less bulky than some of the other more powerful air purifiers.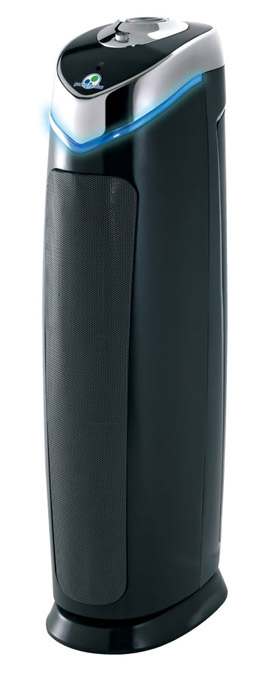 Pros
Silence is Golden
The GermGuardian AC4825 boasts a standard 3-speed fan. The blue light you see in the picture above will indicate that it is working, but you otherwise may not be able to tell. The second fan speed is frankly not that much louder than the first setting. At the highest level, there is what most people would describe as a faint white noise, which is typical with almost every air purifier, but in some cases, that is a positive, if you were thinking of buying a noise machine also. To be frank, it may be that you never need the higher settings if you want to avoid the noise altogether.
Multiple Stages of Filtration
We have seen other air cleansers with "unique" 3-Stage filtering capabilities, for example click here.  Beware clever marketing, but the GermGuardian AC4825 does in fact live up to the challenge that is a full breath of diverse air contaminants.
As with other air filters that have 3 stages, the first is a pre-filter that uses activated charcoal aka carbon to capture typically larger, and typically indoor particles like dust piles, lint and hair. Carbon technology is effective for larger particles and that is why it acts as a great pre-filter, but the added benefit of the activated charcoal is that, especially if you have pets, or cook with fragrances or have other smells living in your space, it does a great job getting rid of them, even cigarette smoke, marijuana smells and odors left by dogs, cats and other animals.
The air is then, filtered by a HEPA filter, which eliminates over 99.9% of all particles larger than 0.3 microns (don't try to measure this at home) in diameter. Good examples of these kinds of small irritants include like dander, mites, mould spores and pollen.
Finally, AC4825 uses UV-C light. This is a short range, non-visible light that is widely considered germicidal. If you host viruses and bacteria like rhinovirus, E.coli and streptococcus, for example, it may prove helpful.
Capacity and Metrics
The AC4825 is most effective in rooms under 155 square feet. It is quite portable, if you wanted to share it between rooms. It boasts a Clear Air Delivery Rate over 100, meaning it cleans 100 cubic feet of clean air per minute, and the air in that size space will be effectively replaced 5 times per hour.
Cool Factor
The design of this air purifier is at a high level, unless you don't like products that look like they are trying to be technologically advanced. Nonetheless, many do, and that's why they make them this way. This air purifier stands out on its design one way or another. It is compact, black. It looks like a champagne flute of cool with chrome and a blue LED light for good measure. If you have other appliances and electronics that look like this, like a PlayStation, it will fit in. It was designed with portability in mind as it is a mere 10 pounds and has a built in handle.
Ease of Use and Maintenance
The filters in the GermGuardian require a little washing (this is not bad, many air filters require this. It is in fact cheaper than the alternative, which is to replace the filter). Take a dry or lightly dampened (for difficult matter) cloth and wipe it down. If any moisture collects in the process of cleaning, be sure to let it dry before using again. You should vacuum the filter every week, and replace it every 8 months, depending on how frequently you use it.
Cons
Silence is Golden… or is it?
So if you're one of those people who want the added "functionality of white noise with your air purifier, we recommend getting the best air cleaner to fit your space and your need, and not worry too much about the sound and volume. The volume will be fairly adjustable by fan speed. The sound you will become accustomed to. In the end, you want the best air filter for your needs. If you have to spend extra to buy a white noise machine, then so be it!
Filter Replacement Cost
Let's just say that for how often it is required, this can be a cost that you aren't expecting.
Conlusion
It's small, it's cool, it's quiet and it packs some punch. Additionally, it's in expensive, and easy to use and clean, and its price won't break the bank! If you're interested in more information, reviews or purchasing, have a look on Amazon.