But for how it looks, the Honeywell 50250-S Air Purifier is a solid machine that can efficiently handle spaces under 400 square feet. My only real issue is that it looks like a medical device, but let's discuss all of the pros and cons, because this one has some strengths also.
Pros
AHAM Certification
Honeywell is a home appliance brand that tends to do things by the book, so it's no surprise they have obtained industry certification for this air purifier.  The CADR for the Honeywell 50250-S is consistently scored at 250 for each of pollen, dust and smoke.
Filters
This machine has an activated carbon pre-filter to capture bigger particles before the HEPA filter is engaged to handle the tougher particles. It comes with a True HEPA filter than can be vacuumed and will last up to 5 years if maintained well. A nice feature is that the replacement HEPA filters for this unit aren't insanely expensive, as we have seen with some other units.
Cylindrical Tower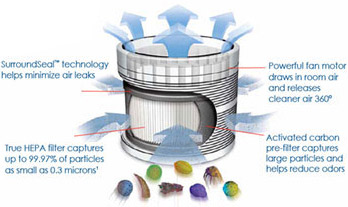 The Honeywell 50250-S Air Purifier is a round machine, which is a little unique, and at a minimum allows Honeywell to a patented air-flow. Our jury is out on whether this is truly more effective than other kinds of air flows, but the circularity is nice, especially as we find the other design elements lacking.
Cons
This is a louder unit than other available air purifiers, but at least you know that it's working. Some people like the noise, and can use it as a noise machine while they sleep. If that's the case for you, then please feel free to add this to the PRO pile, but we left it here for now.
Some people don't like too much light to come off their units, and this air purifier does have a blue light that is noticeable. Not that you would leave it on your house for Christmas, but you'll notice it. If it has to go in a baby's room for example, and your concerned about waking your baby, it will cross your mind that maybe it's too bright.
Finally, this is pure preference, but this model looks like too much like a medical device to me. I like the circular aspect, but the grill and white plastic are put together in a way that would make me want to hide this machine, compared to some of the sleeker designs available today.
Conclusion
When push comes to shove, this Honeywell 50250-S Air Purifier does exactly what it's supposed to do. If you can find it on sale, all the better, especially as the filer replacements are also not going to break the bank. Just know that if you are like me, you might notice the look, and the light and the sound of this machine, a little bit more than you want to.
A lot of people can live with that, especially if a cost savings is involved, so feel free to check the price on Amazon, and if you have any questions, don't hesitate at all to ask.