Frankly, the IQAir New Edition HealthPro Plus Air Purifier is an undisputed leader in the air purifier field. You may not realize that many of your common household gas appliances release petrochemical contaminants into the air. These are sometimes referred to as volatile organic compounds – these can be dangerous to your health, and best to have them monitored and filtered.  The particles are obviously quite small and that can pose a problem for many popular models of air cleaners.
All models of a certain standard are effective at ridding the air of unwanted residue like common allergens, dust and dust mites over a certain size. HEPA filtering technology, as you may know from reading elsewhere on this site, purifies over 99.9% of unwanted but common air particles. Some filters are just not up to this standard and can't quite reach that level when it comes to filtering out contaminants of gases and other noxious fumes.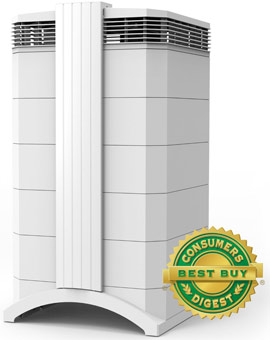 Pros
HyperHEPA Filters and 4 Stages of Awesome
The volatile organic compounds released by your gas appliances can be almost non-existant, but they do exist, in fact, and are measured to be approximately 0.003 microns. A run of the mill HEPA air purifier is not up for this job. But the IQAir HealthPro is, and that is why it is an award winning machine that is widely used by experts servicing homes and offices, and has wide industry recognition.
In addition to HyperHEPA, it includes carbon technology. The carbon is granular activated charcoal, which is capable of dealing with even smaller particles.
It also features micro-particle filtration AND "pelletized chemisorptions filtration." You probably don't even care what that means because you are sold on this machine, and can almost guarantee yourself a space of very high quality air whether you are a smoker, have pets, house common chemicals, live in a place infested with common allergens, or are worried about viruses, bacteria, or maybe live in an industrial area with higher concentrations of toxic fumes and gases already present in the air.
Quiet as my great great grandfather
The IQAir scores extremely well and generates great reviews for its lack of noise. Other air cleaners don't even approach it in this category. It has 6 fan speeds and several of them are basically mute. The higher levels are audible, which will be the case with every air filter system you choose. Some people prefer that for the added benefit of white noise.
The fan in this model is double walled with rubber suspension to reduce friction and absorb turbulent noise.
Performance, User Friendliness and Energy Efficiency
It can deliver up to 800 cubic feet of clean air per minute.  This is suitable for any room, most condos, and will be effective in homes, especially if you are willing to move it around to different floors or areas. It's scores great on energy usage, using as little as 27 watts. It should barely add anything to your electricity bill.
We agree that it leads the filed of air purifiers. The IQAir includes convenient, additional features, such as remote control handling, many different fan speeds (as opposed to some models that have only 2 or 3), thus allowing you to better control energy efficiency, and you can also program it like lamp to go on an off as you please. Like most air filters in this category, it is intelligent enough to tell you when to replace the filter.
Cons
It's bulky and weights 25 pounds. So it is heavier than air purifiers, but remember this units is packing serious ammo.  This is also one of the most expensive air purifiers available, but for a reason. If you pay peanuts, you get monkeys.
Conclusion
Congratulations to the IQAir HealthPro New Edition Plus! It is an air purifier that is on top of its game and stands out from its peers. It costs more money than other brands and models, but if you have serious allergies, contaminants or concerns about air quality, and you don't like to do anything half-way, this is the air purifier for you. If you don't believe us, just take a look at the reviews on Amazon!