I own the Whirlpool Whispure 51030k and use it in my basement. My family's health is important, and I trust this air purifier to to tackle all the impurities in my air that put stress on our bodies, leading to poor rest and poor health.
If you care enough to eat healthy, then you probably care enough to breathe healthy also. The Whirlpool Whispure 51030K Air Purifier does an amazing job of cleaning the air in my home.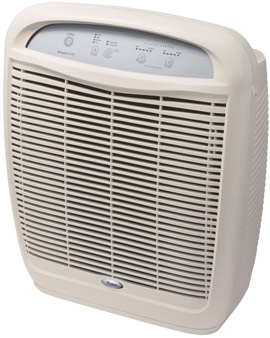 Pros
Whirlpool is and old and reputable brand for home appliances.  This model  uses the standard combination of a pre-filter, an activated carbon filter and True HEPA filter.
It is easy to operate, and is extremely quiet. It's fairly light weight, so easy to move around with its handle on the back, and has many other bells and whistles that you can take advantage of, depending on what kind of air you are trying to purify.
3-Stages of Filtration
The pre-filter works to trap larger particles of pollution. "Bad air" then has to face it's second challenge, the activated carbon filter, which traps smells and gases. After these two filters, your space should be relatively clear of most dust, lint, pet dander and other common allergens.
Last and not least, the HEPA filter captures 99.9% of airborne irritants over a microscopic size, after accounting for all of the irritants taken out in the previous two filters. Mold spores, viruses, dust mites, germs, random debris, pollen, and bacteria are effectively filtered.
Shhh… I'm trying to hear the fan
The Whispure AP51030K has four speeds, all of which are relatively quiet. I've brought it upstairs many times and used it in my bedroom while I sleep. I would recommend anyone do this.
Power and Efficiency
The Whispure AP51030K is best for rooms up to 500 square feet, which is why I use it in my basement, which is about that size, and fairly open. Its boasts an incredible CADR of 315 cubic feet of clean air delivered per minute. The Whispure AP51030K has an ACH rating of 4.8 changes per hour, which is very good (but not as good as top of the line models that cost more).
It uses 115 watts of power, which is on the high end, but for the price of the machine, it's not a bad trade-off. In some locations, Whirlpool supports your purchase with a 5 year manufacturer's warranty. You can also vaccum the filter when the light turns orange, and simply put it back in for another turn.
Cons
Despite the fact that this is one of the best overall machines at this price range, the pre-filter isn't the best among air purifiers in this class, but the HEPA filter more than makes up for that. Some people find that it runs a little warm, and that the carbon filter was larger to be more effective.
Design and Controls
The design is maybe nothing to write home about but "function over form" definitely applies here. It doesn't look bad, it just is what it is. The operational panel at the top is easy to use and understand, but you may need to reference the manual if you don't use it that often and want to adjust some settings.
Conclusion
The Whirlpool Whispure AP51030K is very strong in a field of competitive air purifiers. It is a work horse doing the job of filtering your air, quietly, and there isn't much more to it than that. It's features and controls are all standard, and I highly recommend it. Please feel free to ask any questions or check this model out on Amazon.